Four main events and exhibitions in 2014
Shadows & Dirt

An exhibit about war and humanity. With the understanding that the memories and emotions of war affect not only those who directly experience the events, but cascade to the children and generations thereafter this group of artists has created an exhibition that includes video and sound installation, sculpture, painting and printmaking.
The artists participating in this show are Michael Arcieri, Claire Brewster, Mark Cervenka, Lucinda Cobley, Aaron Courtland, Michael Crowder, Leamon Gree
n, Lisa Qualls and me. Each of these artists brings a thoughtful approach to produce work responding to this sensitive subject matter with intelligence and grace.

Curated by Lisa Qualls.
Art Gallery @ HCC.Central
Ailleurs, Elsewhere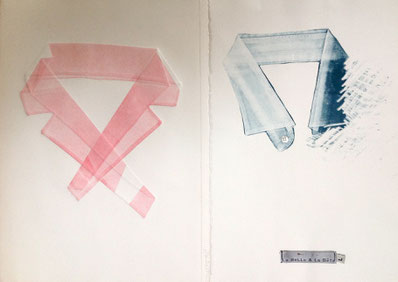 In March, during the month of French Culture and Fotofest, a group show at the residence of the Consul General of France with Khalil Abu Sharekh, Alfredo de Stefano, Remy Marlot, Syd Moen, Olivier Richon, Sandy Skoglund and me.
Ailleurs, Elswhere tells about travel and observation of others through a foreign perspective.
My selection of prints evokes the current global tendencies to outsource manual labor beyond their own borders, creating a physical connection between individuals through the means of simple garment, produced and touched by a variety of hands from "Elswhere" before arriving to its final destination.
Curator: Yvonamor Palix                                                         ypalix@yvonamorpalixart.com
Texas Contemporary Fair Houston
with Yvonamor Palix Fine art

"Donner@voir", exhibition in Brussels