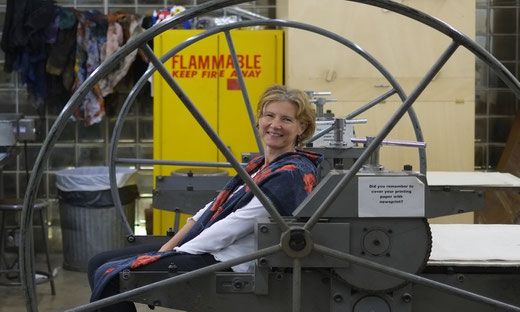 ...between Brussels, Dallas, Berlin and Houston!
I was born and raised in Belgium where I got a master in Law. I have had a long practice as a lawyer, legal adviser and family mediator. I have traveled a lot and moved with my husband and children several times in Europe and the United States allowing me to cultivate my interest in art.
 
Back in Brussels in 2004, I became a student at the Uccle Art School in painting and monoprint, two artistic approaches that feed my thoughts differently. For the first time, I met with other students and teachers, whose open-minded approaches I found very stimulating.

Currently based in Houston, TX, I study monoprint at the Glassel School and exhibit in Houston and abroad regularly.
I am a member of "printmattershouston" that promote traditionnal and non-traditionnal printmaking ( www.printmattershouston.org). I'm also an active member of TFAA which encourages interaction and events for artists from Texas and France. ( http://www.tfaa2011art.com/).